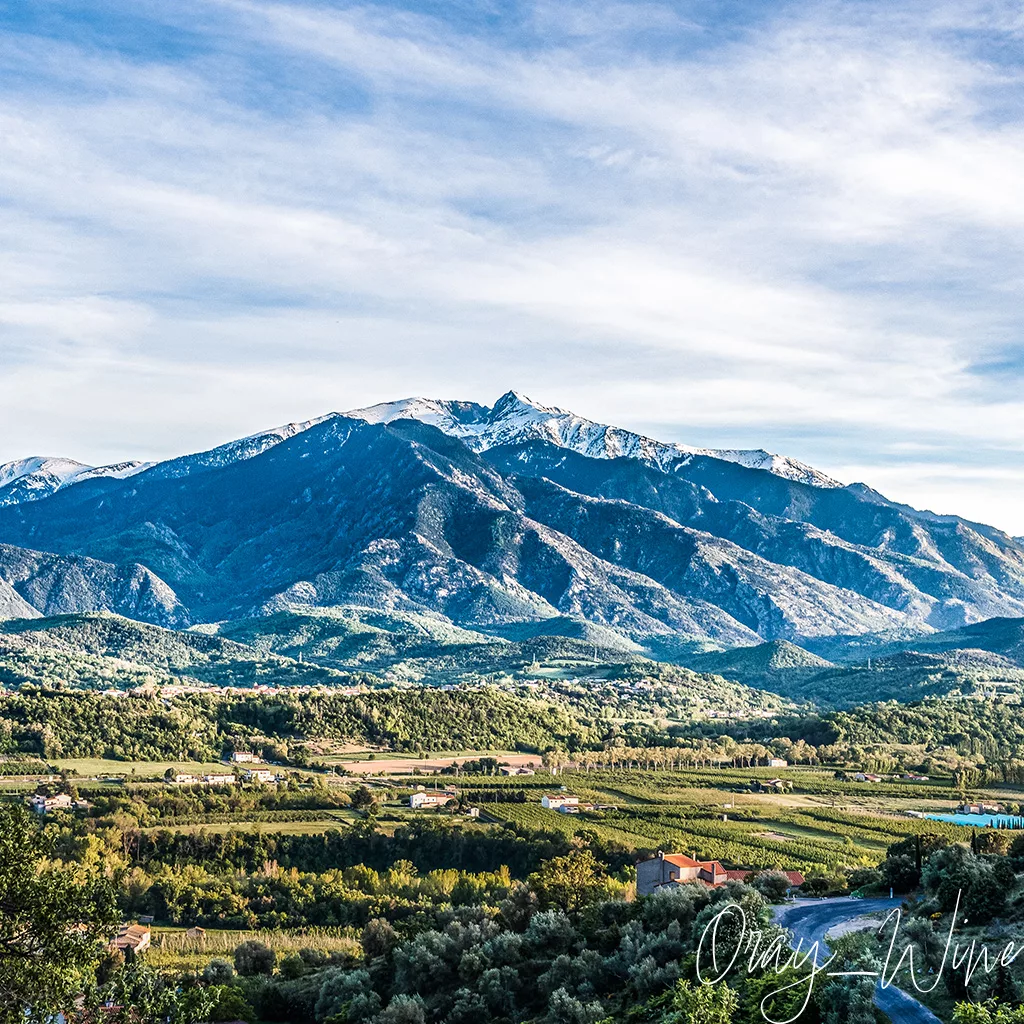 The Roussillon wine region is located in the South West of France on the shores of the Mediterranean Sea on the Spanish border. It is in fact part of the administrative region of Occitanie (region born from the merger of the former administrative region of Midi-Pyrénées with Languedoc-Roussillon).
Roussillon is in fact an immense amphitheater where the Mediterranean Sea is to the east, to the west the foothills of the Pyrenees dominated by the majestic Mont Canigou, to the north the Corbières massif and to the south a myriad of small peaks (tel as the Roc de France) which constitutes a natural border with Spain.
The soils of Roussillon
Amusingly, Roussillon takes its name from the color of the iron-rich red clay typically found in the region ('Rousse' in local parlance). However, summarizing the soil of Roussillon to this red clay would be a serious mistake.
Indeed, Roussillon has a great diversity of soils, a real complex and very varied mosaic. By way of example, here is the composition of the soils of some of the emblematic sub-regions of the region: Maury (the famous black shale), Tautavel (limestone + black shale) + Caramany (Gneiss + Granite), Banyuls/Collioure (gray schist), Aspres (gray schist + quartz + granite + gneiss + marble), Albères (sand + gravel), Vallée du Tech (rolled pebbles), Latour de France (gray schist, red soils rich in iron)…
This great diversity of soil creates an incredible diversity for a wine region which is nevertheless small in size (only half of neighboring Languedoc).
The Roussillon Climate
Roussillon is one of the sunniest regions in France with 325 days of sunshine per year. The climate is very Mediterranean (hot and rather dry summers with mild winters), the rains remain quite rare and the average annual temperatures are the highest in all of France (partly thanks to the barrier of the Pyrenees). The main prevailing wind is the 'Tramontana' which is a northerly wind which has the effect of drying out the grapes and concentrating the sugars and aromas. Tramontana also has the advantage of reducing humidity in vineyards and thus reducing the risk of fungal diseases. As a result, most wine producers in the region have a long history of producing grapes from biodynamic or organic farming. However, the winds in the region cannot be summed up by the 'Tramontane' alone. Indeed, in total nearly 8 winds blow over the region with very varied and sometimes contradictory effects.
Roussillon Wines: forgotten superstars
The Roussillon region is quite damagingly known throughout the world mainly through its Vins Doux Naturels (VDN = fortified wines), the best known of which are probably the AOC Banyuls and AOC Maury. I use the term 'damagingly' because this terroir (click here to find out more about the notion of 'Terroir') is an exceptional land that can produce very great wines. Roussillon is in fact a vineyard that could be described as a 'Cameleon'. Indeed, given the quality of its soil, its location and its wine-growing heritage, it has the possibility of producing exceptional wines of all types (white wines, red wines, fortified wines, etc.) and of all character (wines delicate, fleshy wines…). All these wines often have a very precise acidity and a beautiful aromatic depth. Unfortified wines often have a very elegant entry in the mouth. In short, if you have decided to go through the region for your holidays, do not miss some of the region's gems.
My Top-7 producers to taste
Probably the most famous of all: Le Mas Amiel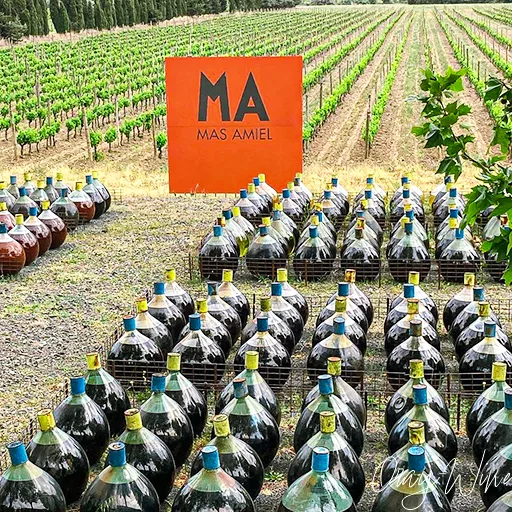 The Mas Amiel estate has a worldwide reputation linked to the quality of its wines. The estate includes 155 hectares of vines. It is located on the immediate outskirts of the village of Maury between the terroirs of Tautavel and Latour de France.
This wine estate was born in the 1890s, so visiting it will allow you to travel through almost 200 years of history. Its cellar houses Austrian oak barrels, with a capacity of 350 HL, which are part of its unique heritage.
Mas Amiel produces both incredible fortified wines and non-fortified wines that will surprise you with their quality. The visit to this emblematic domain is really worth the detour, especially during the summer. Indeed, every year from June, its famous oxidative wines are exhibited outdoors in Demi-Johns. This creates a must-visit experience with its expanses of 'large glass jars' delivered to the rays of the sun. If you only have the opportunity to visit one vineyard in the region, I highly recommend this one. The infrastructures are designed to receive visitors, the staff speaks both French and English and the estate offers you unique taste and oenological experiences. For example, you can enjoy a gourmet picnic or explore the region in a 4×4.
In short, to visit absolutely!
Domaine Gauby: The superstar of the region
The 'Domaine Gauby' is an artisanal estate managed by Lionel and Gerard Gauby. The Syrah vines located in the small village of Calce are of incredible quality. They produce tasty berries with slightly acidic notes. All the vines owned by this estate (as well as the neighboring lands) are cultivated in agrobiology, polyculture and agroforestry. In short, wines are produced by passionate people for passionate people. I strongly recommend that you get your hands on their iconic 'Muntada' cuvée.
Domaine la Coume del Mas : A witness of the Region's Heroic Viticulture
The Domaine de la Coume del Mas is located in the hamlet of Cosprons (between Port-Vendres and Banyuls). In Catalan, the term 'Coume' means 'top of the hill'. It is clear that, by the particular relief that shapes the vineyards of this area, this name is well justified. Some of its plots culminate at nearly 380 meters above sea level with unevenness that does not allow the mechanization of the vineyard. In all, nearly 32 plots spread over 14 hectares which are planted with old vines on schist soils.
From this vineyard, I strongly advise you to taste their white wine called 'Folio' (90% grenache gris + 10% grenache blanc) or their red wine called 'Abysses' (a very nice blend of Syrah and Grenache). But above all, don't miss their Banyuls Grand Cru Hors d'age, a fortified wine of incredible precision and depth (a delight with a bar of grand cru dark chocolate).
PS: an area for which I strongly advise you to contact the winegrowers beforehand if you wish to pay a visit there.
Domaine de la Casenove: a succulent Muscat
If you want to discover the haute couture of Muscat in the region. I strongly advise you to try the Muscat 'S'Arena' from Domaine de la Casenove. This is a great Muscat produced on clay soils using 100% Muscat à Petits Grains Blancs, harvested by hand and vinified exclusively with indigenous yeasts. It is a wine that can only be made in very rare circumstances. It makes wonders when paired with foie gras or blue cheeses.
If you are more into red wine, don't miss their 'Cuvée Jaubert', an intense and powerful 100% Syrah wine which must however be almost 10 years old to be able to taste it at its peak (too young, it might seem too austere).
PS: an area for which I strongly advise you to contact the winegrowers beforehand if you wish to pay a visit there.
Mas Delmas: A couple of passionate winegrowers who work wonders
Impossible to visit this area without prior appointment. However, this vineyard of nearly 15 hectares entirely cultivated in biodynamics has made a very good reputation. The people responsible for this reputation: the true passion of this couple of winegrowers established in Rivesaltes who wish to express the full potential of their terroir. Do not miss their fortified Rivesaltes Ambré wine which would change the mind of any reluctant.
If you prefer non-fortified red wines, I strongly recommend their "Symbiose" wine, a Grenache-Syrah-Mourvedre blend as I like them, both expressive and elegant.
If you are more of a Nature wine, I recommend their wine named 'Nature' without added sulphites from old vines of Syrah and Grenache.
Domaine Roc des Anges: a future star is born
A story as we like them. A couple of passionate winegrowers who seek to exploit the unique potential of their vineyard located in Maury. Here is a domain that is destined to seduce the world given the quality of its wines. It all started with their '1903' cuvée which still remains for me a reference that I will know you recommend (which will make you discover the full potential of Carignan on schist soil). You can choose any of their wine, you won't be disappointed.
PS: an area for which I strongly advise you to contact the winegrowers beforehand if you wish to pay a visit there.
The Domaine du Clos des Fees: an estate that needs no introduction
Hervé Bizeul, a passionate winemaker who needs no introduction and who has earned a reputation through hard work and self-sacrifice. Reigning over a vineyard planted with a pickaxe in the middle of the scrubland of the village of Vingrau (north of Tautavel). Don't miss their 100% Syrah parcel wine called 'De Battre mon cœur s'arreté', an unfortified red wine that borders on perfection with aromas of violets, black olives, fresh fruits and spices.
PS: an area for which I strongly advise you to contact the winemaker beforehand if you wish to pay a visit there