Let's take a trip to the fabulous and picturesque fortress city of Les Baux de Provence to discover the wines made in this region. The old city of Les Baux de Provence is perched on a rocky hillside in the extreme west of the Provence region (near the end of the Rhone Valley). The region, located at the foothills of the French Alpilles, is known for its numerous Michelin-starred restaurants, local microclimate, and breathtaking scenery (especially at sunset). This highly praised wine region is famous for having been one of the first strongholds of organic viticulture, with prestigious wineries converting very early. So let's dive into it.
The City of Les Baux de Provence: The Wine Region's Icon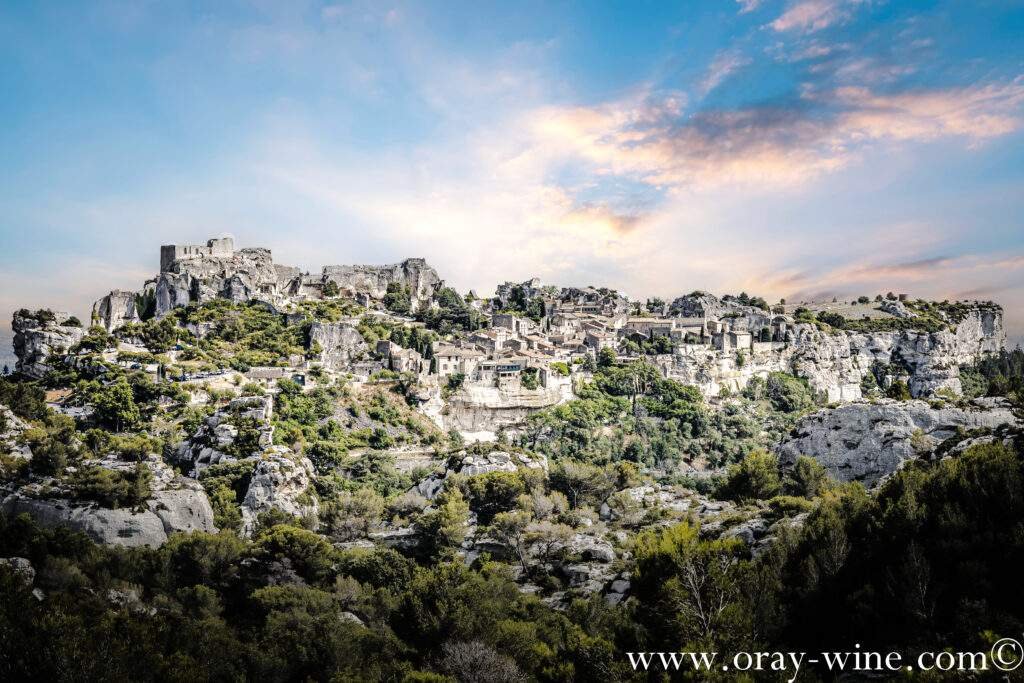 Let's start with the city that gave its name to this beautiful wine region. In the old local language (i.e., the "Provençal") a "Baou" is the name given to a rocky hilltop. This "Baou" is part of the label "Les Plus Beaux Villages de France" (="The Most Beautiful Villages of France"). If you have the chance to stop by to visit, you will have to park your car around and climb up to the old city by foot as it is inaccessible to vehicles. After walking up the stairs, you will be able to discover the tiny streets running around the old castle. They are full of small shops selling all kinds of handcrafted products and local specialties. Consequently, the streets are perfumed with a mixture of typical Provence made of olives, olive oils, dried lavender, dried thymes, dried rosemary, and dried sages. This really makes it a unique experience.
In terms of soil, the limestone rocks composing the hill on which it has been built are rich in "bauxite", a particular type of limestone composition named after the city.
The "Carrières des Lumières"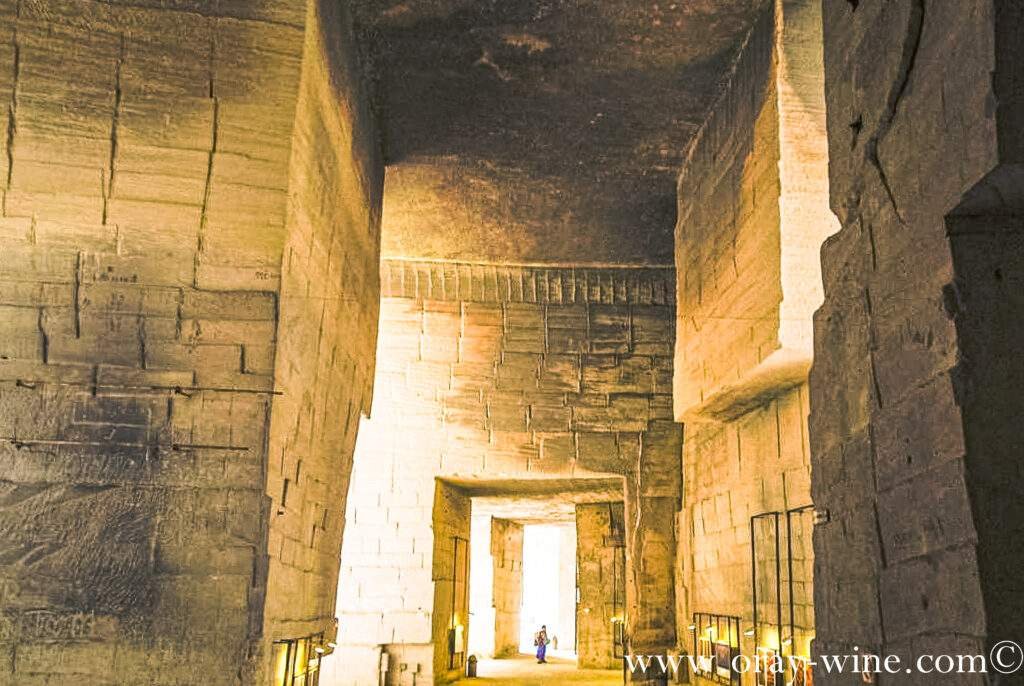 Before going to the top of the old city, you can visit "Carrières des Lumières", the impressive white limestone quarries dug to extract the rocks used to build the castle and the old town. If you have never visited them, I really advise you to go there at least once. The visit to the quarries starts with the monumental "Picasso Entrance" which will give you a glimpse of what to expect once inside. You will be able to take a walk in these monumental galleries dug under the mountain that are cut by the huge columns left by the quarrymen to carry the "ceiling". Usually, children love the experience, especially since the quarries have been transformed into large natural screens for film projection with hundreds of different illuminations and art theme exhibitions.
Wines from the AOC Baux de Provence
Before the creation of the AOC Baux de Provence, wines produced in this area had to be labelled as AOC Coteaux d'Aix-en-Provence. It was only in 1995 that this wine region gained access to its own independent appellation. One of the main reasons behind it was that the local micro-climate is warmer and wetter than the major part of the AOC Coteaux de Provence. The status of this relatively new AOC was changed in 2005 to make it far more stringent than the AOC Coteaux de Provence. As a consequence, red wines (57% of the total production) are mainly made from a blend of Grenache, Syrah, and Mourvèdre (the famous "GSM" blend). This GSM blend needs to represent at least 60% of the total blend. It can be completed by Cinsault, Counoise, Carignan, and Cabernet-Sauvignon (but only if together they account for a maximum of 20% of the final blend). Red wines from this appellation need to be aged for at least one year before being released. The average level of quality is high; wines are well made and can be aged easily. They are probably one of the most underrated quality red wines in France as they are hidden in the shadows of the Rhone Valley reds and Provence rosés. But, make no mistake, there will come a time when the wine world will realize the full extent of its true potential.
Regarding the rosés, they can only be made from Grenache, Syrah, and Cinsault. They amount to around 40% of total production. Remember that we are in the Provence region where rosés rhyme with Cru Classé.
It was only recently that the white wines were allowed to be produced under the AOC Baux de Provence label. They only make up 5% of total production. They can be made through a classic local blend of Rolle (= Vermentino), Grenache Blanc, Clairette, and more recently, Marsanne and Roussanne (two grapes more specific to the neighboring Rhone Valley whites) were allowed to be incorporated into the final blend.
AOC Baux de Provence: the hidden bastion of organic and biodynamic viticulture
"the strong "Mistral" wind combined with its unique dry micro-climate that helps vines to be very healthy"
When you hear about biodynamic viticulture, you often hear producer names from Burgundy or even Nicolas Joly and his iconic and marvelous Coulée de Serrant. However, you scarcely hear experts talking about the AOC Baux de Provence. And yet, this AOC was one of the very early advocates of organic and biodynamic viticulture in France. For sure, this was greatly helped by the strong "Mistral" wind combined with its unique dry micro-climate (close to the "Val d'Enfer") that helps vines to be very healthy. Another factor was the importance of the production of super-premium olive oils in the region, for which quality labels imposed very early the abandonment of pesticide use. As the vines were traditionally grown together with olive trees, the wineries had no choice but to suppress any agrochemicals in order not to lose labels for their pricy olive oils. As a result, this wine region was probably the first to exhibit the fact that organic and biodynamic viticulture can go hand in hand with top quality in the finished products. The quality of the wine production in the region was already high before this revolution, but the whole region jumped to another level after it, showing to the world that a large-scale endorsement of these disputed techniques was possible and viable.
The Domaine de Terres Blanches and the Domaine de Hauvette were among France's very early converts to totally abandoning agrochemicals and converting to full organic viticulture.
Château d'Estoublon: when a picturesque setting fosters excellence in wine and olive oil production
Close to Les-Baux-de-Provence, between Arles and Saint-Rémy-de-Provence, lies the Château d'Estoublon, a historical castle dating back to 1489. This estate covers 200 hectares, 120 of which are olive trees, and 20 hectares of vines. Its chapel, its parks, and its vineyards are all carefully kept. Its olive oil and wine production are both covered by their respective high quality Protected Denomination of Origin (= AOC = AOP = "Appellation d'Origine Protégée). On the estate, grapes and olives are grown and harvested while adhering to organic farming practices and using only manual and mechanical manufacturing methods devoid of the use of chemicals.
While the estate is highly prized for wedding celebrations, it is also known for excellence in olive oil making as being one of the first producers to produce single varietal olive oils that are highly prized by connoisseurs and gastronomic restaurants. The various olive varietals each contribute their own unique olfactory score, just like the wines. Atypical and complimentary, Bouteillan, Salonenque, Grossane, Béruguette, and Picholine are all available as monovarietals and in blends. The best thing is that, if you stop by the little shop, they will be very happy to make you taste the different olive oils. This experience will definitely change your perspective on olive oils and you will find a lot of astonishing similarities between the world of wine and the world of olive oils. Nonetheless, its wine production is not left out and does not escape the quality reputation of the estate, especially with its elegant reds.
Finally, it also offers a great restaurant, La Table d'Estoublou, that many international gourmets like to pay a visit to. The restaurant's daily supply of produce from the Domaine's vegetable garden serves as inspiration for the menu. A variety of aromatic plants, vegetables, fruit, berries, and flowers are available in the 24 organic vegetable patches… The chef uses all of his culinary skills to create dishes that feature seasonal ingredients, vibrant colors, and delicate scents.
My final word: the AOC Les-Baux-de-Provence has a bright future in front of him. If you are staying nearby and wondering which winery to visit, you can try the Chateau d'Estoublon as you may find a little something for everyone and every taste. The only downside is that its marvelous parks are not accessible to visitors due to past degradation.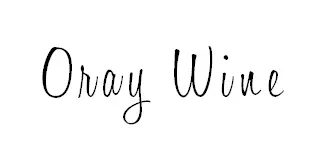 Follow me on my Social Media
---
Wine is a gourmet treasure, do not abuse alcohol!
None of this content has been sponsored
I did not receive any gifts or free samples that could be related to this article
---
Wine is a gourmet treasure, do not abuse alcohol!
None of this content has been sponsored
I did not receive any gifts or free samples that could be related to this article
---